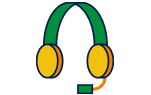 We ensure everything runs smoothly or replace your candidate (No additional fees).
We identify top talent from Latin America, tailored to your specific requirements with our customized recruiting process
SOURCING + VETTING + TALENT PIPELINE
3-MONTH FOLLOW-UP
From recruitment to compliance and payments, we handles all aspects of talent management in Latin America
SOURCING + VETTING + TALENT PIPELINE
LOCAL CONTRACTS & COMPLIANCE
INTERNATIONAL PAYMENTS
3-MONTH FOLLOW-UP
We streamline your contractor payments, ensuring prompt transactions.
INTERNATIONAL PAYMENTS
WHAT COMPANIES SAY ABOUT OUR DEVELOPERS
Larissa Ríos
Application Manager from Brazil
"Larissa's work ethic is good. She is always willing to take on extra projects. She is a team player - working great with our Lead Developer."
Gavin Hay - Hiring Manager at Bento Engine
Alexander Samaniego

Mid Back-end Developer from Ecuador
"He's great! Good fit, hard working, exactly what we need. We need more Alexanders!"
Carl Lane - Hiring Manager at Marqii
Karla García

Mid SRE from Mexico
"Karla has been doing well. She is learning quickly and already making contributions as she ramps up."
Debbie Gillespie - Hiring Manager at Particle
We're technical recruiting experts for post-seed startups on a mission to reach new milestones.

With our personalized services, we have proudly earned the title of "startups' cheerleaders."

We are passionate about LATAM and we're here to be your trusted partners, building incredible remote teams.
95%
talent retention rate from our placements.
40%
of our clients are returning customers.
30%
of our clients were unlucky using recruiting platforms before hiring Awana.
1.5
years is the average time our candidates stay in their jobs.
Share your hiring needs on a scheduled call.
ETC: 2-5 days
We vet profiles and shortlist candidates that meet your hiring criteria.
Meet with candidates and select the right one.
ETC: 1-2 weeks*
Make an offer and seal the deal.
ETC: 2-3 days
Time varies depending on the search criteria and company's internal hiring process.
Sign up for our newsletter
Get insights and top strategies from our experience recruiting the best tech professionals in the LATAM region.