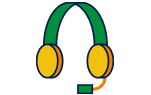 We ensure everything runs smoothly or replace your candidate (No additional fees).
Find and hire Elite Talent from Latin America with our most complete recruiting service. Get full support every step of the way.

UNLIMITED SOURCING - DEDICATED TECHNICAL RECRUITER - END-TO-END SUPPORT - FREE REPLACEMENTS* - & MORE
Mexico, Brazil, Argentina, Ecuador– you name it. Get a tailored pipeline of candidates from all across Latin America.
UNLIMITED SOURCING - DEDICATED SOURCER - FULLY VETTED TALENT - & MORE
WHAT COMPANIES SAY ABOUT OUR TALENT
Bento Engine discovered Larissa Ríos from Brazil with Awana's Talent Hunt Service
"Larissa's work ethic is good. She is always willing to take on extra projects. She is a team player - working great with our Lead Developer."—Gavin Hay

Marqii found Alexander Samaniego from Ecuador through Awana's Sourcing Pro Service
"He's great! Good fit, hard working developer, exactly what we need. We need more Alexanders!"—Carl Lane
Mexican SRE, Karla García, was hired by Particle through Awana's Talent Hunt Service
"Karla has been doing well. She is learning quickly and already making contributions as she ramps up."—Debbie Gillespie
We're tech recruiting experts for startups on a mission to scale and reach new milestones.

With our personalized services, we have proudly earned the title of "startups' cheerleaders."

We are passionate about LATAM and we're here to be your trusted partners, recruiting diverse candidates.
Need to find talent fast?
98%
success rate after first 3 months.
21%
of our hires are women.
50%
average savings in hiring costs.
1.5
years is the average duration our hires stay in their jobs.
How we filter candidates?
Our vetting process is designed to thoroughly analyze technical, communication and soft skills.
Sign up for our newsletter
Get insights and top strategies from our experience recruiting the best tech professionals in the LATAM region.