Guide to hire in Latam
Where in LATAM can you hire a coder?
If you want to hire a coder from LATAM, we recommend these countries as your go-to destination to find software talent.
---
The developer shortage is making startups look for candidates in nearshore locations. Find out why LATAM destinations are becoming the standard for startups looking to hire a coder.
Our company has been working with developers from the region for years to connect their talent with U.S startups looking to hire. Our goal was to create a hiring process that could help startups save time. As a result, they receive multiple candidate profiles that match their requirements.
Get a look at the profiles from our LATAM talent network. Connect with Awana.
In this Blog
Where to hire developers from LATAM
How to hire developers from LATAM
Full-time contractors in LATAM
Overview of LATAM Developers
Since we started working with LATAM developers, we knew there was potential for the region to grow its talent hub. Each country has unique features and differences, but they all have in common: the number of talented developers keeps growing each year.
With remote jobs becoming the new normal, many regional developers hope to find employment so they can access a better programmer salary. This has pushed them to improve their coding skills and English to increase their chances of adapting to foreign digital workplaces.
Even local governments are pushing to lower unemployment rates by offering their citizens free English programs to spread their wings and find new job opportunities. We can vouch that these are effective since we have been doing the same by helping software candidates from several countries in the region improve their skills.
Here's what we can tell you about some countries and candidates we usually work with when helping startups connect with their software talent.
Ecuador
Candidates from Ecuador feel close to home for us since some of Awana's team members are located in cities like Quito, Guayaquil, and Cuenca. The country adopted the USD as its currency at the beginning of the millennium, directly linking them to the U.S.
With the cost of living being much lower, their rates are much more affordable for U.S startups looking to hire a coder. In our experience, an Ecuadorian mid-level developer usually sees monthly a programmer salary of around $3000 to $4500, while a Senior Level Developer receives from $5000 to $8000.
Candidates in our English program have been shown to improve their skills and adapt well to a startup work setting. Ecuador is a small country, but its developer's tech knowledge is up to par with what you may expect to find in the U.S.
Colombia
The country has been known to have a solid tech culture for a while now, which only shows it will continue to grow in the years to come. Our experience with Colombian developers is that they are very well-mannered and are a treat to work with.
When you hire a developer, you expect them to have the tech skills your projects need and bring new energy to your working environment. We can say that Colombian developers are not only kind and very well-mannered, but their tech skills are also awe-inspiring.
In our experience, a Colombian mid-level developer usually sees a monthly programmer salary of around $3000 to $4500, while a Senior Level Developer receives from $5000 to $8000. Its proximity to the U.S also makes it an ideal destination to look for candidates that share similar time zones, making it easier for them to adapt to your startup's working schedule.
Mexico
Being closest to the U.S has its advantages; that's why Mexico is mostly the first country that comes to mind when startups are looking to build their nearshore teams. Mexico's tech industry is massive, which gives its developers a particular awareness of what to expect from startups.
Located in Central America, Mexico offers visitors vibrant culture and beautiful travel destinations to its visitors. Plus, who doesn't love tacos? The candidate's English skills are also a plus since they are so close to the U.S and have probably interacted with Americans in their past jobs.
In our experience, the programmer salary for a Mid-Level developer varies from $3000 to $4000, while a Senior-Level developer's monthly programmer salary goes from $4500 to $7000. Hiring a coder from Mexico is a win-win situation since they have affordable wages that guarantee experienced coders.
Brazil
The biggest country in LATAM has a considerable advantage over other countries due to its massive population. Their tech industry is also huge, and the number of developers grows steadily yearly.
It is no wonder most hiring services looked to Brazil when first getting started since its software talent is very diverse and has shown to master a majority of coding languages and tech skills in general. It's truly unique just how many profiles the country has to offer.
In our experience, the Brazilian programmer salary for a Mid-Level developer varies from $3300 to $4500 per month, while a Senior-Level developer's programmer salary can be from $5000 up to $9000 when hired full-time. In our experience, Brazilian candidates also show impressive English speaking skills, which is always a big plus for startups looking to hire a coder.
Where to hire developers from LATAM
Awana's database of developers holds profiles from Ecuador, México, Colombia, Brazil, and many other countries in the region. From day one, our goal was to help connect your startup to access talent from the region easily.
To us, it's not a question of where but how we can help you find a candidate that matches your project's requirements. Our hiring process sets us apart by doing our best to listen to your needs and then present you with several profiles from LATAM for you to pick from.
Here's how our hiring process can help you in a matter of 3 weeks to find the candidate you need when looking to hire a coder for your startup.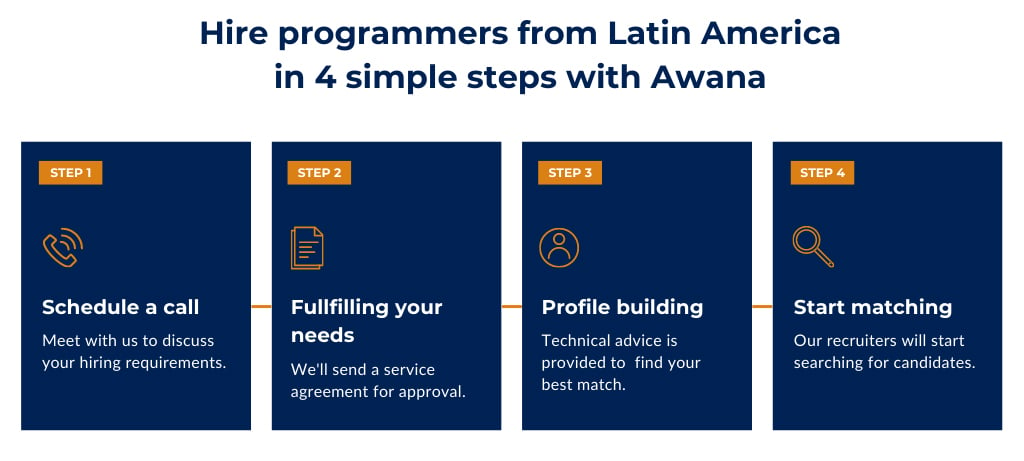 Our hiring process sets us apart by doing our best to listen to your needs and then present you with several profiles from LATAM for you to pick from.
We understand how time-consuming it can be to look for candidates, so we make sure we ease the process by offering help from our team of experienced tech recruiters. When you look for candidates, you must have some tech knowledge and languages used by developers if you want to hire the right coder.
How to hire developers from LATAM
To hire remote developers from the region as full-time employees, it is essential to abide by each country's labor and taxation laws. Every country is different as pointed out in the Guide to Hire in LATAM, and the candidate's perks vary depending on the country where the developer lives.
Our experience has shown us there are usually two types of contracts you can work with when you decide on what candidate you pick. This is where our expertise with each country will come in handy to make sure you not only abide by legal proceedings but also choose the contract that best works for your company.
Awana has connected +50 startups to +100 developers based in LATAM. The type of contract and the candidate's location will legally define their perks and relationship with your company when hiring. Here are some insights into what you can expect from hiring full-time employees or contractors.

Full-time contractors in LATAM
Employees may be submitted to a trial period when hired (Colombia)

Without perks, the candidate may expect a higher salary (Ecuador)

Contractors may add extra pay for specific tasks (Brazil)

Most employee perks apply when hired (Mexico)

Unjust firing guarantees paid termination within 15 days (Colombia)
Become an expert downloading our
Guide to Hire in LATAM
How to pay employees in LATAM
When you hire in LATAM, keeping track of money transfers and deposits into your employee's local bank account may be tricky. Unexperienced accountants and H.R. representatives may be able to get the money to the candidate but could choose transfer rates that, in the long run, may affect your budget negatively.
Paying employees effectively increases the candidate's commitment to your company by making the developer feel appreciated. We are trying to say that it's important how you handle the payment process, so best leave it to the pro's so you ensure you do it the best way possible.
Awana recently partnered up with Deel so it can continue to perfect the way it helps startups hire (and, in this case) pay LATAM developers. This guarantees startups they pay their employees effectively to avoid any bumps.
"Even before our partnership with Deel, we were figuring out how to make payments and deliver perks to companies easier. When a company was curious about what it means to hire a contractor or employee, we would help them understand. We even are providing transparent pricing to the companies so they know how and when they can give raises."

Calvin Sedao, CEO at Awana
Related: Payroll Service Introduction for Startups
Words from Awana's CEO
"What sets us apart in Awana? Don't we just hire LATAM developers for startups? Isn't this a very common practice? You would be right about that.

However, Awana isn't special because we hire in LATAM or work with mid-senior software developers. Sure, that's mainly what we do, but that doesn't tell you the whole story.

Making remote work a credible vehicle to innovate the experience of LATAM's talented developers and startups working together is. The connection and commitment between these two elements have so much potential to impact both of them positively.

This is what passions us, helping you create a valuable connection by offering much more than just an introduction."
Get connected with Awana
LATAM's developers are becoming the best choice for startups looking to find candidates when they want to hire a coder.
Learn how we can help you to complete your nearshore team of software talent.